Screeding Services

from Vance Plasterers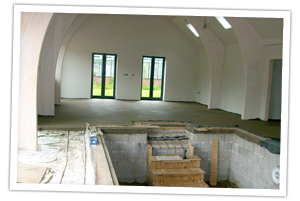 Typically required for large building projects or restoration projects, screeding is needed to create an even surface which is durable and completely level. At Vance Plasterers Ltd we specialise in applying screed to the substructure of a property, ensuring that it is completely level and defect-free. We are extremely conscientious, working hard to ensure that each project is completed to the highest standard of quality.
We frequently reinforce the screed with either purpose made steel meshes or fibre strand mesh which is then incorporated into the screed mixture. Understandably, each project requires a different admixture to enhance the natural properties of the screed, and whether you require your screed to be waterproof or quick drying we are able to help.
The quick drying screed admixtures are suitable for high-speed building projects, while the waterproof admixtures are designed for swimming pools and garden features. If you are unsure which admixture you require or you want a no-nonsense quote, telephone us on 07779 300921 or contact us via our online contact form.
We look forward to doing business with you.
Get Your Free Quotation

Start your enquiry here
Screeding Services
A variety of admixtures are also available to alter or enhance the screeds performance such as quick drying or waterproofing agents for use in high speed building programmes or swimming pools / garden features.